Comprehensive Stamped Concrete Greensboro NC Residents Love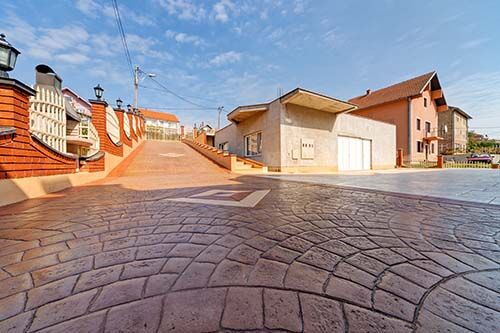 Why settle for the monotonous gray concrete style for your driveway or pool deck when you can have a modern, stylish look? Yes, concrete has many practical benefits that help make it the preferred construction material. Still, thanks to technological advancements, your driveways, walkways, patios, and other paved surfaces no longer have to remain dull and lackluster. Stamped, patterned, or decorative concrete uses rubber stamping techniques to imprint design molds over the concrete surface to mimic cobblestone, natural brick, tile, slate, or even hardwood floor patterns.
Golden Key Contractors Greensboro NC is the preferred local provider of decorative concrete services for residents and property owners. We have beautiful designs for stamped concrete Greensboro NC locals adore. We are the dependable concrete company Greensboro NC residents and entrepreneurs turn to every time for affordable custom stamped concrete resurfacing.
Our stamped concrete patterns come in decorative textures and colors that appear authentic, natural, and designed to blend effortlessly with your existing concrete flattop. As industry-leading Greensboro concrete contractors we utilize the latest highlighting products and surface preservation technology to resist fading. Our stamped designs will leave your indoor floors and outdoor structures with non-porous and easy-to-maintain surfaces that are resistant to mildew, unwanted stains, and corrosive chemicals. Our contractors use attractive decorative concrete Greensboro NC residents adore. Let us put our expert training and quality craftsmanship to work for you.
Contact our general contractors today!
Beautiful and Functional Decorative Concrete Greensboro NC Homeowners Adore
Are you thinking about renovating your driveway? We provide stunning stamped concrete Greensboro NC residents trust to last. Once we've determined that your existing concrete slab is in good condition, we can install our practical design overlays with minimal difficulty and upheaval. Perhaps your previous concrete sealant has sustained severe damage from extreme weather or faded due to age; our surface refinishing solutions will revitalize its overall appearance.
Hire us, and you get to experience working with one of the most experienced concrete companies in Greensboro NC. Our construction crew can strip your worn-out concrete sealing to restore the brightness to your vertical surfaces or flooring. When it comes to decorative concrete Greensboro NC residents love that we have so many options for them to choose from. With our proven concrete sealing treatments added to your new concrete installation, you get to thoroughly enjoy the desired aesthetic effect along with a dependable layer of protection.
Our Greensboro concrete contractors know how to apply vertical stamped concrete overlays to enhance indoor and outdoor surfaces, including kitchens, family rooms, basements, patios, siding, retaining walls, and fireplaces with natural stone, wood, tile, and other popular texture design elements. Our ability to consistently complete projects on schedule and within budget helps distinguish us from other concrete companies in Greensboro NC. We are professional artisans who work with home and business owners to create a desired final product. Call now to have your landscape needs catered to by the best decorative concrete company Greensboro NC locals have ever worked with. We look forward to hearing from you!