Golden Key Contractors Greensboro NC
GET A FREE DESIGN CONSULTATION
The Best General Contractors Greensboro NC Has to Offer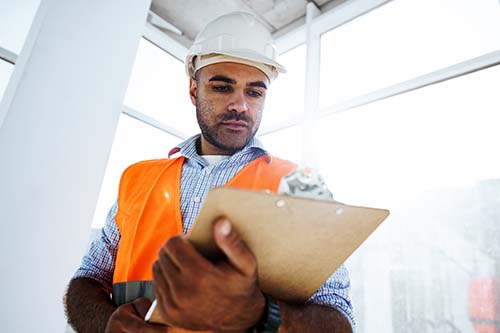 Do you need a new driveway, commercial parking lot, open-air entertainment space, or home fire pit? How about a paved outdoor area where your kids and pets can play and stay clean? A solid concrete foundation is almost always required for new construction and general property maintenance. It would be best to execute such projects with precision, on time, and within budget.
Golden Key Contractors Greensboro NC is a proven builder that provides full-range residential and commercial concrete protection, repair, and replacement services. We are industry-leading concrete contractors in Greensboro NC. Our crew specializes in general concrete construction and engineering. Complete customer satisfaction is our top priority, and as such, we always look to strike a balance between cost-effectiveness, dependability, timeliness, and unrivaled quality on every project we undertake.
Apart from slabs and foundations, our concrete expertise is evident in all construction areas. When it comes to the type of concrete Greensboro NC families may have, our crews can create custom structural and decorative concrete castings throughout the space you are working on. For many years, we have successfully handled all concrete installation phases for our clients in Greensboro and the surrounding areas, including extensions, overlays, and minor or major repairs. We offer accredited concrete paving services for large and small projects. We provide comprehensive and sturdy stamped concrete Greensboro NC locals can count on to last.
Your New Greensboro Contractors
Concrete foundations are often integrated into home, office, or retail space designs, making aesthetics a significant factor for indoor or outdoor concrete construction projects.
Smoother surface concrete textures might be required for open areas in public views such as staircases, warehouse floors, and other outdoor concrete features. You'll want to hire a knowledgeable local contractor familiar with concrete chemistry and configuration. For instance, the cement makeup for a foundation or a slab is different from those used in sidewalks, curbs, masonry walls, or even concrete repairs. You may not get the desired results if the underlying concrete mix does not match the project requirements. Hence, you must consider experience and reputation when selecting a concrete construction contractor for your domestic or commercial needs.
Golden Key Contractors Greensboro NC is at the forefront of home or business growth across the entire city. As one of the best general contractors Greensboro NC residents can hire, our responsibility is to ensure that your urban development project gets done right the first time. We build foundations and repair paved surfaces as part of our full-service repertoire to meet our customer's paving requirements. Does your new home construction require the services of experienced Greensboro general contractors? We offer seamless flattop installations that won't impact the overall integrity or timing of the project, and when the situation requires commercial construction expertise, ours is one of the first names on most local job sites. Our crews that pour the concrete are known to operate without causing issues or delays that negatively affect your business flow.
Contact our general contractors today!
Efficient and Sturdy Concrete Greensboro NC Residents Rely On
Dirt trails caused by heavy foot traffic across your yard can diminish your property's curb appeal. If you're looking to keep your landscape looking its best, then you should consider pavement and walkway installation services. The skilled concrete paving crew from Golden Key Contractors Greensboro NC is here to help you brainstorm outdoor design ideas so we can recreate your backyard or patio structure according to your specifications. We only employ certified patio pavers Greensboro NC locals can count on to get the job done efficiently.
As part of our goal to complete projects that can improve our community, we continue to provide paved structures that are designed to transform your space into improved, functional environments, whether that's by creating adaptive features or laying efficient concrete foundations for increased productivity. We have fantastic concrete contractors Greensboro NC residents rely on to make sure their driveways and walkways are built to last.
Our experienced hardscaping crews are equipped to handle every aspect of your concrete flatwork project, from foundation laying to the entranceway, parking lot, and sidewalk installation. In addition, we provide quality driveways, patios, swimming pool decks, outdoor firepits, garage/basement floors, masonry walls, and other concrete features and structures for homeowners within our service areas. We provide affordable and efficient concrete repair Greensboro NC families can always count on. Call us now to schedule a consultation!
Excellent work done by Golden Key Contractors Greensboro NC, such a reliable and professional team, the final product was seamless to say the least thank you.
Golden Key Contractors Greensboro NC have done some exceptional work for in the past few days, a very reliable business. Punctual, professional and very hard working, their great efforts reflect in their work massively and I'm happy to have hired such a great crew.
I cannot recommend this business enough, Golden Key Contractors Greensboro NC have recently given me a beautiful concrete driveway that compliments my home in the best ways, it was done professionally, efficiently and exactly how I asked for it, great service and awesome value for money.
Great experience dealing with Golden Key Contractors Greensboro NC, a truly reliable and hard working team. My new driveway looks amazing!
I highly recommend this business! I have absolutely no complaints from my experience, showed up on time, worked at an exceptional speed and didn't compromise the quality of what they had done.
Precise and Authentic Stamped Concrete Greensboro NC Families Love
Are you feeling underwhelmed by your outdoor environment? Then look no further than our highly-trained concrete contractors Greensboro NC residents rely on. We specialize in transforming backyards and enclosures with custom landscape designs. Concrete surfaces are built for various residential or commercial purposes. Thanks to our proven professional ability to apply stamped decorative concrete on floors or vertical surfaces, we can provide you with endless options for updating and adding value to your home or commercial building.
Our stamped concrete Greensboro NC natives love, will enhance the aesthetics of your walkways, driveways, outdoor patio, and interior floors by using patterned or imprinted overlays to mimic more expensive construction materials. Our concrete artisans have mastered the art of imprinting stamped concrete molds or patterns into freshly-poured concrete surfaces before it hardens so it can resemble cobblestone, tile, slate, natural brick, or even wooden planks. Our stamped concrete patterns and decorative colors look authentic, natural and are designed to blend effortlessly with your existing concrete slab.
We utilize the latest highlighting products, top-of-the-line sealers, and surface preservation technologies to resist the effects of fading so you can enjoy life in a beautiful, low-maintenance environment for many years to come. As one of the preferred general contractors in Greensboro NC, we are fully committed to delivering professional quality services for homes and businesses. All of our workers are certified contractors Greensboro NC natives depend on to complete their projects quickly.
Unrivaled Yard Redesigns From Concrete Contractors Greensboro NC Natives Appreciate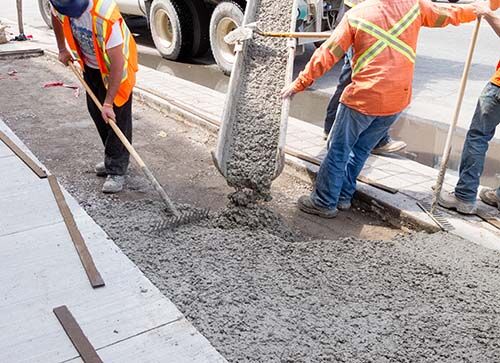 Golden Key Contractors Greensboro NC performs residential and commercial concrete paving projects ranging from compact residential driveways, footpaths, and patios to large-scale entryways, parking lots, and walkways for shopping areas. As industry-leading Greensboro contractors, we have what it takes to handle the multi-phase complexity of central commercial installations and home improvement projects with the same level of professionalism and attention to detail.
We can design a beautiful concrete driveway Greensboro NC locals will adore for years to come. Our landscape design team will work closely with you to create a suitable plan for your lifestyle or business needs, whether you want your property's exterior to resemble a countryside villa or an urban commercial masterpiece. Here at Golden Key Contractors Greensboro NC, we believe that flat surface preservation treatment should be an integral part of every property maintenance plan, especially since concrete pavement preservation is a cost-effective alternative to complete road reconstruction projects.
Our concrete pavement preservation operations usually involve removing worn-out joint sealants, sealing cracks, and repairing damaged concrete joints. However, we might adopt a different pavement rehabilitation approach in cases where the concrete joints have become too broad for replacement seal repairs. Furthermore, we believe your driveway should elevate your landscaping aesthetics and enhance your home's style instead of serving as a mere entrance/exit path. As such, we offer a variety of concrete driveway and pavement installation options to complement your property's appearance. We will make an amazing concrete driveway Greensboro NC residents will love!
Elegant Patio Pavers Greensboro NC Residents Deserve
Golden Key Contractors Greensboro NC is the county's top concrete preservation contractor. We can handle everything from homeowner constructions to significant projects such as city pavements, public parking lots, and everything in between. Are you looking to improve your household's comfort and enhance curb appeal? Patios are an excellent way to boost aesthetic value while providing your family and guests with a safe outdoor environment to relax and unwind. Our patio pavers Greensboro NC locals love, are known for their quality stamped concrete expertise. When hired, they can transform any corner of your yard into a breathtaking work of art.
We also offer you custom patio and paver design options, or you can rely on our trusted landscaping experts. Your satisfaction is guaranteed no matter which option you choose.
We can design a beautiful and affordable concrete patio Greensboro NC locals can rely on for years to come. We have always ensured that our stamped concrete patios and other outdoor applications can withstand the worst weather conditions and the damaging effects of everyday use.
Our concrete contractor Greensboro NC families trust, has a reputation for completing pavement preservation operations on schedule and within budget. We will use the latest paving equipment and high-quality concrete treatment materials to ensure the longest possible duration between surface maintenance, thus saving you future repair costs. Moreover, our artistic touch helps us provide you with the desired surface finish no matter the structural or color design you have in mind.
Contact our general contractors today!
Contractors In Greensboro NC You Can Count On
We are a team of licensed Greensboro contractors with the skill and capability to create lasting transformation results for your property. Our vertical or floor concrete surfaces have no spaces or joints for mold or weeds to grow. We provide quality resurfaced overlays complete with stamped concrete patterns to enhance your home's aesthetics with trendy wood, stone, or rock finishes for kitchens, family rooms, basements, retaining walls, fireplaces, patios, and more. All our exterior surfaces are also low maintenance, which means you only have to pressure wash or scrub them occasionally to avoid dirt buildup.
Each one of the Greensboro general contractors we work with has several years of commercial concrete flooring experience. As such, we specialize in multiple existing concrete resurfacing processes such as staining, stamping, or polished flooring in offices, high-profile reception areas, retail buildings, restaurants, and salons where durability and minimal maintenance are crucial. We offer various design and color finish options, including customized logos to compliment your branded materials.
We provide quick and affordable driveway repair Greensboro NC families trust in emergency situations. We diligently ensure a customer-friendly process from receiving your initial call to the final project inspection. A successful process usually begins with a visit to survey your site to start drawing up a design, project quote and agreeing on an estimated start date. Afterward, our contractors Greensboro NC natives rely on, will walk you through the process to ensure that your stamped concrete driveway or patio construction project is successful.
Efficient and Reliable Concrete Repair Greensboro NC Families Depend On
Do you have cracked floors or uneven driveway surfaces on your Greensboro, North Carolina property? While damaged concrete surfaces may seem like a cosmetic issue, you must respond whenever you notice cracked substantial areas on your concrete surface. Besides the negative curb appeal impact and detracting property value, cracked driveways and uneven sidewalks can worsen and become hazardous over time. Once your concrete surfaces develop cracks, they won't disappear without repair. If left unchecked, tiny spaces can expand into large potholes, causing significant inconvenience and vehicular damage hazards, and while anyone can attempt to level your damaged concrete surfaces, inexperienced foundation repair operations can be catastrophic.
Unless you hire an experienced contractor that is able to work on any kind of concrete patio Greensboro NC locals may have, you risk causing more damage leaving you with no choice but to dig up the existing substructure and replace it with a new base. With knowledgeable, affordable restoration & repair services from Golden Key Contractors Greensboro NC, you are guaranteed to enjoy long-lasting concrete resurfacing results. As one of the best general contractors Greensboro NC has to offer, we proudly specialize in repairing and restoring domestic and commercial driveways, walkways, patios, pool decks, and other concrete structures that have suffered the damaging effects of prolonged outdoor exposure.
Our concrete repair Greensboro NC families depend on, is specifically designed for transforming your paved residential surfaces to almost new conditions. Additionally, we require only a few days to repair frequently used commercial spaces such as warehouse floors, entranceways, shopping center walkways, and courtyards, thus eliminating costly downtime. To learn more about driveway repair Greensboro NC locals can always count on, call or email our team today!